Posts for: December, 2015
By Jean Lafayette, D.D.S.
December 21, 2015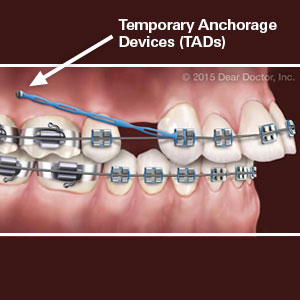 Braces are a common part of many teenagers' life experience — but not every bite problem is alike. Sometimes, there's a need for accurately moving only a few teeth while making sure others don't. This is where Temporary Anchorage Devices (TADs) can help streamline that effort and even reduce treatment time.
Orthodontics wouldn't work at all if we didn't already have a natural tooth movement mechanism in our mouths. That ability rests with the periodontal ligament, a tough, elastic tissue between the teeth and the bone that firmly attaches to both with tiny collagen fibers. Though quite secure in holding teeth in place, the ligament attachment also allows teeth to move in response to changes in the bone and jaw structure.
Braces are made of brackets cemented to tooth surfaces through which tiny wires pass. The wires are anchored, usually to other teeth or groups of teeth, and tightened to apply pressure against the other teeth. The ligament does the rest: as the teeth are "pressured" to move in a certain direction, new bone, ligament and an anchoring substance known as cementum forms behind it to secure the tooth in its new position.
The anchorage teeth are not intended to move. In some situations, though, it's difficult to keep them from not moving — much like trying to keep a boat anchor from not dragging through sand on the sea bottom. TADs help alleviate this problem: it's a mini-screw or mini-implant that's temporarily placed in the jawbone to which the tension wire can be secured. They're placed in the best positions for isolating the teeth that need to be moved without compromising the position of nearby teeth that don't.
With the site numbed with a local anesthetic, we install the TAD through the gum tissue into the bone with a special device; their screw-shaped design holds them securely in place. They're then removed when the orthodontic treatment is complete.
While a simple procedure, precise placement requires collaboration between the orthodontist and the oral surgeon or dentist who installs them. They also need special attention during daily hygiene to keep them clean. Still, with difficult bite situations they can help bring about the right outcome — a straight and beautiful smile.
If you would like more information on orthodontic treatment options, please contact us or schedule an appointment for a consultation. You can also learn more about this topic by reading the Dear Doctor magazine article "What are TADs?"
By Jean Lafayette, D.D.S.
December 13, 2015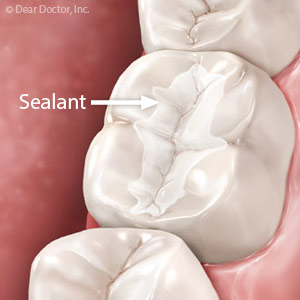 Taking care of your child's teeth is a high priority, not only for their health now but for the future too. And that means dealing with their teeth's most common and formidable enemy, tooth decay.
Your focus, of course, should be on preventing decay through good oral hygiene practices, a healthy diet low in foods with added sugar and regular office visits for cleaning and checkups. But some children at higher risk or who've already encountered tooth decay may also need a little extra help in the form of dental sealants.
The most common use of sealants addresses a weakness in young teeth that disease-causing bacteria exploit. Deep grooves known as pits and fissures form within the biting surfaces of developing back teeth and in the rear of front teeth.  It's very difficult to reach these areas with daily brushing, so some plaque may be left behind (hence the importance of semi-annual office cleanings).
Inside the mouth, these pits and fissures are in a warm and moist environment and are a haven for bacteria that feed on plaque and produce high levels of acid as a by-product. The acid softens enamel to eventually create a hole, or a "cavity" in the tooth. Children's young enamel is highly susceptible to this process — it hasn't developed enough strength to resist the adverse effects of acid.
A "pit and fissure" sealant made of resin fills in the grooves in the teeth to inhibit the buildup of plaque — a kind of "mini" filling. It's an added layer of protection that complements other prevention efforts. But applying them isn't an automatic practice — we only recommend it for children at high risk, especially where decay is beginning or it appears the conditions are conducive for it. When needed, though, it can be quite effective in preventing decay or minimizing its effects.
The best way to know if your child could benefit from a sealant is to have them undergo a complete dental exam. From there we can advise you on whether a sealant application is an important investment in their current and future health.
If you would like more information on dental disease prevention for children, please contact us or schedule an appointment for a consultation. You can also learn more about this topic by reading the Dear Doctor magazine article "Sealants for Children."