Posts for: January, 2014
By Jean Lafayette, D.D.S.
January 29, 2014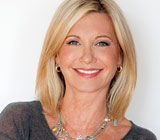 Singer Olivia Newton-John's daughter Chloe is now a lovely, grown woman, but Olivia recently recounted to Dear Doctor magazine a rather creative method she found to sooth Chloe's teething troubles many years ago.
"When Chloe was a baby and teething I remember using a frozen bagel for her sore gums," Olivia said. "She loved it!"
Cold is often very soothing to a teething child's gums. In fact, the American Academy of Pediatric Dentistry (AAPD) recommends using a clean, chilled, rubber teething ring, or cold wet washcloth. Chilled pacifiers can also be helpful. Be sure not to freeze teething rings or pacifiers as ice can actually burn sensitive mouth tissues.
Older teethers can sometimes find relieve from cold foods such as popsicles (or bagels!) but make sure your child eats these sugar-containing foods only at mealtimes so as not to promote tooth decay.
If your baby has not yet begun the teething (or tooth-eruption) process, you can expect it to begin usually between six and nine months. It may, however, start as early as three months or as late as twelve months.
Teething symptoms vary among children, as does the length of time it takes for a tooth to make its appearance. But many parents notice the following signs:
Irritability
Biting and gnawing
Gum swelling
Chin (facial) rash
Disrupted sleeping patterns
Ear rubbing
Drooling
Decreased appetite
These symptoms are usually most bothersome during the week that the tooth is breaking (erupting) through the gums, starting about four days before and lasting about three days after the tooth appears.
Occasionally, teething discomfort can be considerable. If that is the case with your baby, you can give her or him acetaminophen or ibuprofen in the appropriate dose (check with your pharmacist if you're not sure what that is). The medicine should be swallowed — not massaged into the gums, as this can also burn. Numbing agents should not be used for children under 2, except under the advice and supervision of a healthcare professional.
If you would like to learn more about teething or any other child-related oral health issue, please contact us or schedule an appointment for a consultation. If you would like to read Dear Doctor's entire interview with Olivia Newton-John, please see "Olivia Newton-John." Dear Doctor also has more on "Teething Troubles."
By Jean Lafayette, D.D.S.
January 14, 2014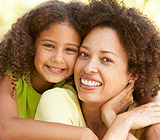 It is sometimes hard to believe all of the features and characteristics that we inherit from our parents. Whether you're tall, short, blue-eyed or blonde, you can usually attribute some of these features to your mother and father. Of course, the downside of genetics is that diseases and disorders are also linked to genes.
Well, you can add gum tissue to that list as well! Genetics actually determines whether you have what we call "thin" or "thick" gum tissue. How does this work? Well, the type of gum tissue you have relies heavily on the shape of your tooth, which indeed is genetically-coded. If you have a triangular tooth shape, you'll likely have thin gums. If you have a squarer tooth shape, you'll usually have thick gums.
So, what can you expect from each tissue type?
If you have a thin gum tissue type, you are more likely to have gum recession. Watch out for the following signs of gum recession:
Sensitivity to hot or cold, even without the presence of dental decay
If you have crowns on your teeth, you may see a dark gray line at the gum line from the metal casting beneath the crown
Small dark triangular spaces between teeth
On the other hand, if you have a thicker tissue type, your gums are more vulnerable to dental disease through a condition called "pocketing." This happens when bacterial plaque causes your tissue to become inflamed, lose its attachment to the teeth and develop a pocket. Pocketing can result in bone loss, and, in worst-case scenarios, tooth loss.
It's important to note that while we use these terms to categorize different tissue types for treatment decisions, your tissue may also fall somewhere in between the two varieties.
So, how can you prevent gum disease? Daily oral hygiene is the best way to ensure proper care of your gums, no matter what type you have. Be sure to brush twice daily (use a soft toothbrush) and floss regularly at night. Floss gently until you hear a squeak, but watch out for your gum line. And of course, continue to visit us two times a year, so that we can assess whether you are in danger of developing gum disease.
If you would like more information about genetics and gum disease, please contact us or schedule an appointment for a consultation. You can also learn more by reading the Dear Doctor magazine article "Genetics and Gum Tissue Types."