Posts for: August, 2013
By Jean Lafayette, D.D.S.
August 21, 2013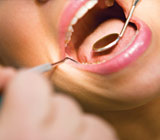 Lose a baby tooth when you're a young kid, no big deal — you'll grow another. Lose a permanent one and there's cause for concern. For one thing, tooth loss is often a symptom of an underlying oral health problem, such as tooth decay or gum disease, so it's important to identify the cause and treat it to prevent it from progressing. It is equally important to replace the tooth — not simply for the immediate impact it can have on your smile or bite, but for long-term function, esthetics and the health of the bone that supports your teeth.
The primary options for tooth replacement are fixed bridgework and dental implants. Both result in esthetically pleasing outcomes; the main difference is how each is attached. With a bridge, the replacement tooth, referred to as a "pontic," uses the two natural teeth on either side of the gap — referred to as "abutments" — for support. The pontic is sandwiched between two other crowns, which fit over and are bonded or cemented to the teeth on either side of the gap. To ensure the companion crowns fit properly, the enamel must be removed from each abutment.
Placing dental implants, by contrast, involves working only on the affected area. The "implant" is actually a small titanium rod with spiraling threads just like a miniature screw that is carefully inserted into the jawbone as though it were a natural root. The replacement tooth, a customized crown, is secured to the end portion of the implant by way of an intermediary referred to as an abutment, which firmly anchors it in place.
Both bridges and implants are natural looking, functional, predictable, and reliable. Each has its advantages and disadvantages, and based on your oral health, one may be more appropriate than the other.
If you would like more information on tooth loss and replacement, please contact us or schedule an appointment for a consultation. You can also learn more about this topic by reading the Dear Doctor magazine articles "The Hidden Consequences of Losing Teeth" and "Dental Implants vs. Bridgework."
By Jean Lafayette, D.D.S.
August 06, 2013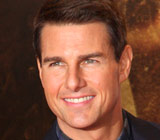 It's no surprise that plenty of teenagers go in for an orthodontic evaluation and come out wearing braces. But sometimes, an observant orthodontist may notice that an adult's smile could use a little bit of improvement, too. Even an adult like — Tom Cruise?
That's exactly what happened to the star of Top Gun, Rain Man and the Mission Impossible franchise. Cruise, then 39, was taking one of his children for orthodontic work when it was pointed out that the leading man's teeth were also out of alignment. So he opted for braces too.
"Yes, Tom Cruise has braces," said his publicist when the star appeared, sporting his new orthodontic appliances. "To him, it's no big deal." Cruise chose to get the relatively inconspicuous ceramic type, with only a thin wire visible in front of his teeth. He wore them for about a year and a half, having them temporarily removed when it was time to make a movie.
Ceramic braces are a popular choice among adult orthodontic patients, many of whom find that less noticeable orthodontic appliances fit in better with their personal or professional lifestyle. Clear aligners also provide a virtually invisible option. We can help you decide which appliance would best meet your needs. But the first step is a thorough evaluation of your periodontal health.
Is it Risky Business to get braces as an older adult? Not usually — but if you do show signs of periodontal disease, which is more prevalent in adults than teens, it's important to bring it under control before beginning your orthodontic treatment. There are also a few medical conditions, such as heart-valve disease, severe uncontrolled diabetes, and leukemia, which might preclude treatment.
For most people, however, orthodontics offers a great way to improve your appearance and boost your self-confidence — even if you're not a movie star. It is estimated that three-quarters of adults have some form of orthodontic problem; and studies have shown that orthodontic treatment can enhance an adult's career opportunities and social life.
So, if you're looking for a better smile at any age, don't hesitate to contact us or schedule an appointment to discuss your treatment options. You can learn more in the Dear Doctor magazine article "Orthodontics For The Older Adult."