Posts for: April, 2013
By Jean Lafayette, D.D.S.
April 20, 2013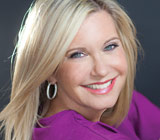 Though it's been a while since Olivia Newton-John sang her way into our hearts in the movie Grease, her smile is as radiant as ever. Today, Olivia is still singing, acting and busy with new ventures such as authoring a cookbook and raising money for the cancer center that bears her name in Melbourne, Australia. Whichever part of the world Olivia finds herself in, she protects that beautiful smile with an oral appliance that many find beneficial.
"I wear a nightguard to prevent wear on my teeth, custom-made by my dentist," Olivia recently told Dear Doctor magazine. "I love it!"
Olivia's device, also referred to as a bite (occlusal) guard, is designed for people who clench or grind their teeth at night, or during stressful periods. Made of thin, wear-resistant plastic, it is custom-made to fit exactly over your top teeth. This allows the bottom teeth to slide gently across the top teeth without biting into them. Not only does this prevent excessive tooth wear, it also helps relax the muscles of the jaw.
Grinding or "bruxing," as it's also called, can affect virtually any part of the oral system: the jaw joints or muscles, resulting in spasm and pain; the teeth themselves, resulting in wear, fractures or looseness; it can even cause an aching in the ears, head, neck or back.
If you are a teeth-grinder, you might not even know it unless a sleeping partner hears it or your dentist notices signs of wear. These habits are called "parafunctional" (para – outside, function – normal), meaning the biting forces it generates are well outside the normal range — sometimes as much as 10 times normal. So it's no wonder that damage to teeth can occur if they are not protected.
If you have any questions about grinding habits or nightguards, please contact us or schedule an appointment for a consultation. If you would like to read Dear Doctor's entire interview with Olivia Newton-John, please see "Olivia Newton-John." Dear Doctor also has more on "Stress & Tooth Habits."
By Jean Lafayette, D.D.S.
April 04, 2013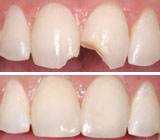 Imagine this: your active, adventurous child — or adolescent — loves high-risk contact sports like hockey or football, and while playing breaks a front tooth. After an emergency trip to our office, we recommend bonding as a good choice for this repair.
"What is bonding?" you ask. Here's what you need to know. In a bonding procedure, a composite resin restoration material is attached (bonded) to the broken tooth, and it looks as good as new.
Composite resin restorations are tooth-colored filling materials composed of a special plastic-based matrix for strength, with glass filler for aesthetics and translucence. The combination looks just like a natural tooth. The composite resin material is physically bonded to the remaining healthy tooth structure. First the natural tooth enamel or dentin must be etched so that the composite resin can attach and actually join to the tooth. In the end it will function as one and look exactly like a tooth.
Composites can be placed directly on the teeth in our office, quite easily, and they are relatively inexpensive. They look natural and can be matched to your child's natural tooth. They require little to no tooth reduction. Bonded composite resin restorations are the best choice for children and teenagers because their teeth and jaws are still growing and developing. What's more, they are still active in their sports and could need further restorations.
Composite resin restorations may need to be replaced with more permanent restorations after your child is fully grown. The bonded resin restorations may wear over time, and may stain and dull somewhat with age. When your child has completed growth, more permanent restorations such as porcelain veneers or crowns may be necessary.
By the way, a custom-made mouthguard might have prevented injury in the first place and certainly should be considered in the future.
If your child has chipped or damaged a tooth, contact us today to schedule an appointment or to discuss your questions about bonding and a protective mouthguard. You can also learn more by reading the Dear Doctor magazine article "Repairing Chipped Teeth."