Posts for: March, 2013
By Jean Lafayette, D.D.S.
March 22, 2013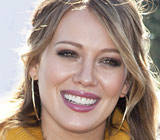 Many Hollywood luminaries use porcelain veneers to enhance their smiles. Take actress and singer Hilary Duff, who, according to People magazine, had veneers placed on her two front teeth after chipping them on a microphone during what must have been an extremely energetic performance.
Well, you don't have to be a Hollywood star to benefit from a smile enhanced with porcelain veneers. If you have small chips, cracks, slight tooth rotations or minor spacing problems, veneers may be able to give you back your smile — or an even better one.
The word "veneer" refers to a super-thin covering, and in dentistry a veneer is a thin layer of porcelain that replaces your natural tooth enamel. Porcelain is the material of choice because of its strength, translucency, and ability to resist erosion.
In the right hands, dental porcelain can mimic tooth enamel perfectly. To make veneers, a skilled dental technician will mix porcelain powder (in a shade specified by the dentist) with water and then fire the material in an oven like pottery; the porcelain is built up in layers for a truly lifelike effect.
Before a veneer is bonded to a tooth, often we need to remove a tiny bit of the tooth's existing enamel so that the final effect will not be too bulky. The procedure is virtually painless and can be completed in as little as two visits. Because enamel is removed, this particular cosmetic treatment is not reversible. Sometimes veneers can be added directly onto the tooth surface without any tooth reduction and therefore are reversible if used in this way.
Once you have veneers, please keep in mind that while extremely strong, porcelain veneers are not indestructible; you won't want to do things like crunch ice or break nuts open with your teeth. And if you are a teeth-grinder, you should wear a nightguard to protect your beautiful new smile. With proper care, your veneers will last 20 years or more.
If you would like more information about porcelain veneers, please contact us or schedule an appointment for a consultation. You can also learn more by reading the Dear Doctor magazine article "Smile Design Enhanced With Porcelain Veneers." Dear Doctor also has more on "Cosmetic Dentistry: A Time For Change."
By Jean Lafayette, D.D.S.
March 07, 2013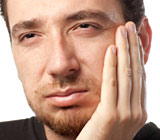 Temporomandibular Disorder (TMD), which was formerly known as Temporomandibular Joint Disorder (TMJ), is an interesting condition because it can be hard to diagnose and often mimics many other conditions. It arises when there are problems inside the temporomandibular joint, and the muscles attached to it, causing pain. When treating TMD, we typically start by relieving the symptoms of pain and discomfort with heat, mild pain medications, a diet of soft foods, and some simple jaw exercises. We feel that it is critical to address your pain issues as soon as possible before preceding any further with treatment.
Once we have provided some pain relief and after having completed a thorough history and examination, we can move to the next phase of treatment. This may include the introduction of a bite guard or some form of oral appliance therapy. A bite guard is an unobtrusive yet rigid plastic horseshoe-shaped appliance that fits snuggly over the biting surfaces of the upper teeth. When in place and properly adjusted, this custom-made appliance allows your muscles and therefore jaw joints to relax. And it will prevent you from grinding your teeth, another contributing factor to TMD. We will probably ask you to wear it when sleeping or in times when you are feeling stressed when clenching or grinding habits may be active. We may also suggest that you obtain some relaxation therapy and/or biofeedback from a licensed therapist, as this can prove helpful in treating TMD.
If you have suffered from frequent jaw pain in the past and suspect that you may have TMD, please let us know so that we can address it at your next appointment. Or if you are currently in constant or severe pain, contact us immediately to schedule an appointment. You can learn more about the signs, symptoms, and treatment options for TMD by reading "TMD — Understanding The Great Imposter."