Posts for: February, 2013
By Jean Lafayette, D.D.S.
February 17, 2013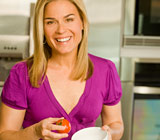 Cat Cora is a world-class chef, restaurateur, best-selling author, and philanthropist — on top of being the first female chef on the hit television show Iron Chef America. She is also the mother of four active young sons. And while all these important roles require her daily attention, she makes oral health a top priority for herself and her family through diet, brushing, flossing and routine visits to the dentist.
During a recent interview with Dear Doctor magazine, Cat revealed that she had her wisdom teeth removed when she was in her thirties and another tooth extracted and replaced with a dental implant. When asked to compare the two experiences, Cat said that the implant was "much easier for me." She went on to say, "It feels very natural" and "now, I don't even think about it."
Some may be surprised by Cat's response; however, we find it to be a quite common one.
There is no question that over the last two decades, dental implants have revolutionized tooth replacement and the field of dentistry. A dental implant, used to replace missing teeth, is placed in the jawbone with a minor surgical procedure. What's amazing is that over time these dental implants actually fuse with or integrate into the bone, thus making them an ideal permanent solution for replacing a missing tooth. They are typically made of commercially pure titanium, a substance that has been used for medical and dental implants for years. The crown, the part above the gum tissues, is attached to the implant via a retaining screw and a connecting piece called an abutment. The crown itself is artistically crafted using porcelain to mimic the look and feel of a natural tooth — just as Cat Cora describes.
To learn more about dental implants, continue reading the Dear Doctor magazine article "Dental Implants, Your Third Set of Teeth." Or you can contact us today to schedule an appointment so that we can conduct a thorough examination and discuss what treatment options will be best for you. And to read the entire interview with Cat Cora, please see the article "Cat Cora."
By Jean Lafayette, D.D.S.
February 03, 2013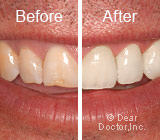 If you are unhappy with your smile or the way some of your teeth appear, porcelain veneers may be the solution to your concerns. They are a fast, effective, and well-proven method for cosmetically enhancing your smile — and a secret that Hollywood and other celebrities have been taking advantage of for years. To help you determine if they are right for you, here are some questions we typically receive.
What is a veneer?
A veneer is a custom made thin "shell" or thin layer of a dental ceramic material (usually porcelain) used to replace the front, visible surface of the tooth. They are artistically and hand-crafted using a precise model of your mouth and teeth to achieve a natural look.
What can they do for me?
Veneers are the optimal choice for correcting small to medium gaps between teeth; slight rotations of teeth causing them to be misaligned; oddly shaped, chipped, or "short" teeth; as well as teeth that are discolored or unevenly colored. However, veneers have their limitations, too. They cannot correct bite issues, poor tooth position, or profile issues. It is also important to note that if you have this procedure, we will typically need to remove a small amount of enamel from your teeth to accommodate the veneer and produce dramatic improvements to your smile.
How long will they last?
While they can vary widely from person to person, porcelain veneers usually last from 7 to 20 years. Factors that impact this timeline include your oral hygiene habits, diet, lifestyle, as well as how well you protect your veneers during sleep and while playing sports.
Have more questions?
Contact us today to discuss your questions or to schedule an appointment. You can also learn more about veneers by reading the Dear Doctor article, "Smile Design Enhanced With Porcelain Veneers."