Posts for: December, 2012
By Jean Lafayette, D.D.S.
December 29, 2012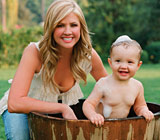 During Nancy O'Dell's interview with Dear Doctor magazine, the former co-anchor of Access Hollywood and new co-anchor of Entertainment Tonight could not resist her journalistic instincts to turn the tables so that she could learn more about a baby's oral health. Here are just some of the facts she learned from the publisher of Dear Doctor about childhood tooth decay, pacifier use and what the right age is for a child's first visit to the dentist.
Many moms-to-be and parents or caregivers of young children are surprised to learn that around age 1 is the ideal time to schedule a child's first visit to the dentist. This visit is crucial because it sets the stage for the child's oral health for the rest of his or her life. It can also be quite beneficial for the parents, too, as they can be reassured that there are no problems with development and that the child's teeth appear to be growing properly. And if by chance we identify any concerns, we will discuss them with you as well as any necessary treatment strategies.
Nancy also wanted to learn more about pacifiers — specifically, if it is a good idea for parents to encourage their use. Obviously, children are born with a natural instinct for sucking, so giving a child a pacifier seems totally harmless. Pacifiers definitely have some advantages; however, if used for too long — past the age of 18 months — they can cause long-term changes in the child's developing mouth (both the teeth and the jaws).
Another problem that parents and caregivers need to be aware of is baby bottle syndrome. This is a condition that develops in children who are perpetually sucking on a baby bottle filled with sugary fluids such as formula, fruit juices, cola or any liquids containing a large amount of sugar, honey or other sweeteners. It is important to note that a mother's own breast milk or cow's milk are good choices for feeding babies, as they both contain lactose, a natural sugar that is less likely to cause decay. However, if these liquids are placed in a bottle and a child is allowed to suck on it throughout the night, they, too, can promote tooth decay. The key is to feed your child properly while avoiding all-night feedings and liquids loaded with sugar.
To read the entire Dear Doctor magazine article on Nancy O'Dell as well as to learn more about a baby's oral health, continue reading "Nancy O'Dell — A life full of smiles." Or you can contact us today to schedule an appointment so that we can conduct a thorough examination, listen to your concerns, answer your questions and discuss any necessary treatment options.
By Jean Lafayette, D.D.S.
December 11, 2012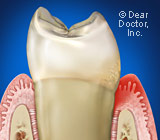 Periodontal or gum disease is an often silent disease that can cause significant damage to the health of your teeth and body. The reason it is so often classified as a silent disease is because it is chronic or longstanding and often without any symptoms or pain that most people associate with a disease until it may be too late.
If you think you may have gum disease, here is what to look for:
Bleeding gums — probably one of the most common and overlooked early warning signs that most people ignore is thinking that the bleeding is being caused by brushing their teeth too hard. The truth is that you would have to brush extremely hard to cause healthy gum tissues to bleed.
Bad breath — something everyone has experienced; however, it can also be a warning sign of periodontal disease. This is especially true for people who hate or refuse to floss their teeth, thereby trapping literally billions of bacteria where they love to collect in the protected areas between the teeth.
Redness, swelling, and/or receding gums — all signs of gum disease often accompanied by sensitivity of the gum tissues around the teeth.
Chronic inflammation — long-standing gum inflammation is a sign that your gum tissues are not healing properly. Periodontal disease exhibits periods with bursts of activity followed by periods where the body tries to recover.
Loose and/or moving teeth — that seem to be drifting into a new position, are visible signs that you are highly likely to have periodontal disease.
Abscess formation — late stage gum disease is characterized by painful, swollen, red pockets of pus, which denotes an acute localized periodontal infection.
If you have any of these signs, you need to make an appointment for a thorough evaluation. Otherwise, you could end up losing your teeth to the second most common disease known to man after tooth decay. To learn more about gum disease, continue reading, "Warning Signs of Periodontal (Gum) Disease." Or, contact us today to schedule an appointment.