Posts for: September, 2012
By Jean Lafayette, D.D.S.
September 26, 2012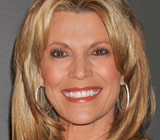 As the co-host of one of America's most beloved television game shows, Wheel of Fortune, Vanna White is recognized for her beautiful gowns and her dazzling smile. However, during an exclusive interview with Dear Doctor magazine, she shared her experiences with cosmetic dentistry. "I had a bridge put in probably 30 years ago where I had a tooth pulled and there was a space," Vanna said.
Prior to having a permanent tooth pulled, most people are concerned with what can be done to replace it. It's important to follow through and do exactly that. This is especially true with back teeth. Just because you can't see them, it doesn't mean you won't face problems if they are not replaced.
For example, did you know that missing posterior (back) teeth can lead to a wide array or problems with the remaining teeth, muscles, ligaments, joints and jaw bones? This includes:
A decrease in chewing efficiency that in turn can impact your diet, nutrition and overall health
Excessive erosion or wear of remaining teeth
Tipping, migration, rotation and even loss of adjacent remaining teeth
Painful jaw problems such as Temporomandibular Dysfunction (TMD)
One treatment option is to follow in Vanna's footsteps and consider a fixed bridge. This is an excellent option when dental implants won't work. And through our artistry, we can easily blend them in color and appearance with your surrounding teeth.
When implants are possible, they represent the best option. They are easily maintained and are a durable, long-lasting solution that can increase bite support.
To learn more about this topic, continue reading the Dear Doctor magazine article "Replacing Back Teeth." Or if you are already missing a permanent tooth, you can contact us today to schedule an appointment so that we can conduct a thorough examination. We will also address any questions you have as well as your treatment options. And if you want to read the entire feature article on Vanna White, continue reading "Vanna White."
By Jean Lafayette, D.D.S.
September 10, 2012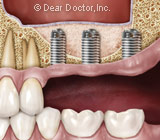 Of all the of amazing procedures in today's dentistry, surgery that causes new bone to grow — in places where it had previously been lost — is high on the list of the most extraordinary. (When bone is lost or resorbed, it is broken down into its mineral components, which are dissolved into the bloodstream. Resorption of tooth-supporting bone often takes place after teeth are lost.) Dental techniques that cause new bone growth are important because a certain amount of bone is needed to replace lost teeth with dental implants.
Today's dental implants themselves are an amazing innovation. Implants consist of a replacement for the tooth's root, usually made of a metal called titanium. A replacement for the crown, the part of the tooth that is visible above the gums, is attached to the titanium root. Titanium has the remarkable quality of being able to fuse with the bone in which it is anchored. This process, first discovered in the 1950s, is called osseointegration.
In the case of missing upper back teeth, many people who wanted dental implants in the past were told that they did not have enough bone to anchor the implants and that they had to get removable dentures instead.
But now a new surgery called maxillary sinus augmentation can cause your body to regenerate bone where it was lost and is needed to anchor dental implants.
Bone in the upper jaw or maxilla usually supports your upper back teeth. Inside the maxilla, on either side of your upper jaw, are air spaces in the bone, which are lined with a membrane. These spaces, called the maxillary sinuses, are generally shaped like pyramids; but their shape and size is different in each person. The new surgical procedures involve lifting up the sinus membrane in the area where bone is needed and filling the space thus created with a bone grafting material. Your body then creates new bone to fill the space. This usually takes about six months. If you have almost enough bone to stabilize the implants, they can be placed simultaneously with the graft, thus saving time and avoiding a second surgical procedure.
All grafting materials used today are approved by the Food and Drug Administration (FDA) and must be prepared according to their guidelines. They are specially treated to render them completely safe for human use.
After the surgery there is usually no more than mild to moderate swelling and some discomfort, about the same as having a tooth removed.
If you are missing upper back teeth, contact us to schedule an appointment to evaluate your upper jaw. You can also learn more about this procedure by reading the Dear Doctor magazine article "Sinus Surgery."